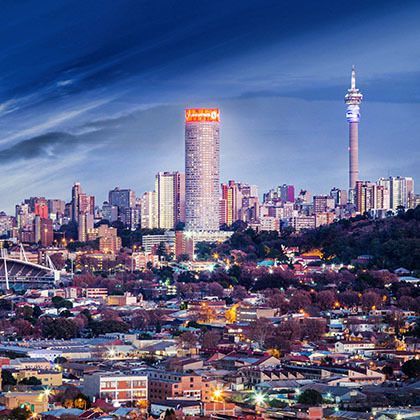 South Africa
South Africa is one of Africa's largest economies with a first-class infrastructure, constitutional democracy, strong financial services centre and independent judiciary. In addition, the country is a gateway to high growth economies to the north, with the financial and professional expertise to help guide international investors seeking to access these markets for the first time. CMS is based in South Africa with over 20 lawyers located in Johannesburg.
CMS RM Partners is on a journey to modernize and transform the South African legal market anticipating on BEE, the South African government's legislated programme to correct the apartheid legacy and to encourage participation and development of black people in the economy, a trend which is growing across the continent. We are a commercial law firm specialising in providing practical and innovative full spectrum legal, tax and transaction advisory services. We are committed to developing young African talent and are accredited as a BEE Level 1 law firm.
Following an analysis of the South African and sub-Saharan Africa legal market, we identified an opportunity to establish a new kind of legal business that capitalises on structural pressures on more established law firms, as well as opportunities arising from affirmative procurement based on the principle of BEE and its related concept of transformation.
Clients have said:
'very responsive and proactive'
'The quality of [their] legal work is top class'
'extremely efficient, commercial, pragmatic and easy to work with'
'I've worked with [them]… on very complex deals and big transactions'
The firm has been ranked in The Best Lawyers, our partners are recognized by The Legal 500, Who's Who Legal, Chambers, IFLR1000 and The Best Lawyers
Our Expertise
We offer a unique combination of expertise including Banking & Finance, Commercial, Corporate/M&A, Public Procurement, Tax, Compliance, Consumer Products, Funds, Hotels & Leisure, Infrastructure & Projects, Insurance, Private Equity, Energy, Lifesciences & Healthcare, and Technology, Media & Communications coupled with specialised services of Regulatory & Investigations, Exchange Control and Transaction Advisory Services.
Our international practice focuses on advising national and multinational private and public companies and listed entities in complex financing operations, international companies in specific regulatory matters in various industry sectors in Africa and in merger & acquisition related transactions, as well as advising national and international companies in large-scale expansions.
Contact
We help our clients implement, improve and achieve their business strategies in South Africa and sub-Saharan Africa. Contact us, if you would like to find out more.
Key contacts
Riza Moosa, LL.M.
Managing Partner
Head of Banking & Finance
T +27 83 675 3462
[email protected]
Andrew Wellsted
Co-Head of Tax
T +27 82 824 1337
[email protected]
Deepa Vallabh
Head of Africa: M&A
T+27 82 571 0707
[email protected]
Read more
Read less