CMS has the largest number of partners dedicated to employee share plans in a City law firm, with over forty years' combined experience as partners in their field. Our team stands out for the range of work it does. We each advise FTSE100 and multinational companies on their share plans and the related public company M&A work that goes with that, but also advise start-ups, particularly in the tech and life sciences sectors and other companies which are private equity owned. We will work with you to maximise the opportunities to reward employees in the most tax-effective way possible and deliver their rewards cost-effectively for your business.
Each of our partners is anchored in the firm's sectors. When clients approach us, they want common sense advice based on our experience and what is right for their business at their particular stage of development.  As part of the wider CMS network, we are also quickly able to draw upon the overseas expertise of our international offices.
We pride ourselves on giving clear advice. We ensure our clients are aware of the commercial opportunities and pitfalls they may face, as well as (in appropriate cases) the changing tax and corporate governance environment.
Quoted companies
IPOs
M&A activity
All-employee plans
Executive remuneration in the public glare
Listing Rule compliance
PE owned and other private companies
Tax-efficient remuneration, including EMI options
How to create opportunities for employees (especially leavers) to sell shares
Appropriate structure for the size of company
Financial services
Compliance with the various Remuneration Codes put in place by the PRA and FCA
Employee trusts
Setting up and operating employee trusts
Winding them up
Some highlights of our experience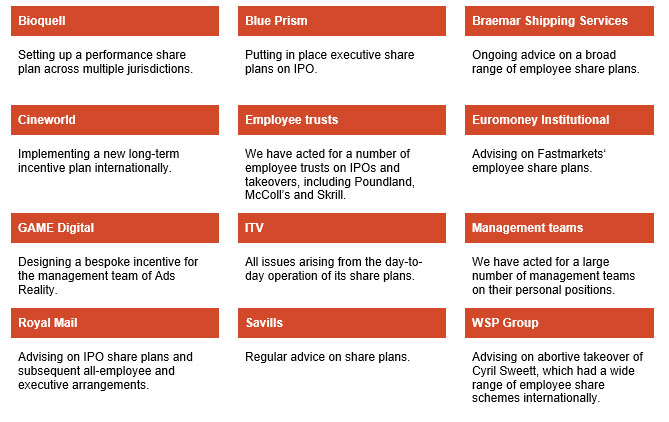 Read more
Read less