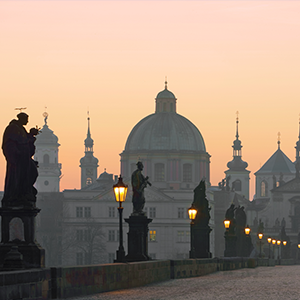 Prague
Czech Republic
CMS was among the first foreign law firms to open in the Czech Republic. Building on more than 25 years of experience in the local market, we offer our clients extensive expertise and knowledge of the local legal and commercial landscape.
We have a team of over 40 Czech and internationally qualified lawyers based in our Prague office. Whether you plan to conduct a transaction or conclude a commercial agreement under Czech or English law, we have the resources available 'on the ground' to staff it locally.
We pride ourselves on the fact that many our transactional clients retain us for on-going legal work and more strategic projects for many years after the initial instruction. Located in modern offices in the city centre our clients are welcome to work in our meeting rooms when in Prague and make the most of our client services.
If you need support in the Czech Republic, be it on the expansion of your business through an acquisition or a greenfield investment, complex regulatory issues or your day-to-day operations, please contact one of our team.
more
less
Directions
By foot
Walk along the street, Na Poříčí, that runs down the right-hand side of the Palladium Shopping Centre (whilst facing it), keeping on the left-hand pavement.
Just past the tram/bus stop, enter the first set of gates you come to on your left. A small blue plaque marks this entrance number 3a.
Turn immediately right into the building lobby.
Sign in with the receptionist, who will give you a card that operates the turnstiles.
Proceed to the lifts and take a lift to the third floor.
Upon exiting the lift, turn right then immediately left and follow the signs to CMS Cameron McKenna.
Go through the double doors and turn right at the end of the corridor.
Our reception is in front of you. Press the buzzer to be admitted.
more
less
Location
CMS Cameron McKenna Nabarro Olswang, advokáti, v.o.s.
Palladium, Na Poříčí 1079/3a
110 00 Prague 1
Czech Republic
Directions PDF
Open Google Maps